For all of the benefits of electronic publishing — not having to cut down a bunch of trees to produce paper, as a starting point — there's nothing quite like picking up and reading a physical magazine. Some of it is nostalgia, but those printed pages perform a single function: static words and graphics. No notifications from iMessage while you're scrolling on your phone; no ads from a sketchy retail website hawking bizarre prints on t-shirts; no embedded links that lead you to other articles or websites to provide context. It's you and the magazine, and the magazine has your full attention.
So it's bittersweet to see one of the last major print publications in the technology world finally cede to the whims of the 21st century: as Harry McCracken of Technologizer writes, Maximum PC (and MacLife) will no longer be on physical newsstands, ending its hard-copy run and turning to digital-only print publication. With both outlets launching under those names in 1996, a 27-year-long stream of glossy issues delivered to mailboxes and bookstores comes to an end.
I spent many of my early computing years in the Apple ecosystem, first with one of the early all-in-one Macintosh classics, and later with the Macintosh Centris. But I spent significantly more time in the MS-DOS and Windows world, and at some point in the 1990s, I stumbled across Maximum PC. That was the publication I felt most connected to, and I subscribed through the late 90s into the early 2000s.
Maximum PC was never going to eat the lunch of behemoths like Computer Shopper or PC World when it launched as Boot in 1996, but it took a different — and slightly juvenile — approach to a tech magazine that found a surprisingly loyal audience. It dabbled in carefully-curated, slightly-short-of-salty language: the front cover carried the badge "Minimum BS" below the title. It featured articles with somewhat risqué titles and photo spreads: the October 1998 issue (volume 3, number 9) led with "Supermodels: A Bevy of Sexy New Notebooks Will Take Your Breath Away" and a photo of a model with a Sony laptop. It covered the full gamut of tech content: reviews, commentary, news, and even technical advice and investigative reporting.
This was a magazine that refused to cover the tech industry with a straight face, and that's why, according to PC World, Maximum PC continued to grow its newsstand numbers into the 2000s while the legacy outlets fell off a cliff with the advent of the Internet. All you have to do is read editor-in-chief Brad Dosland's letter in that October 1998 issue to understand what his staff was aiming for. (It's a well-written, unapologetic #sorrynotsorry read.)
I remember seeing an ad for a technology product in a national newspaper. The company wanted to promote its product, which had recently been recognized by Maximum PC. The catch? The paper required that the ad be censored. I'm sure the folks at Maximum PC got a kick out of seeing their accolades referred to as the "Kick A**" award to meet the newspaper's print standards.
At some point during my subscription, my copy of Maximum PC arrived in the mailbox looking less than pristine: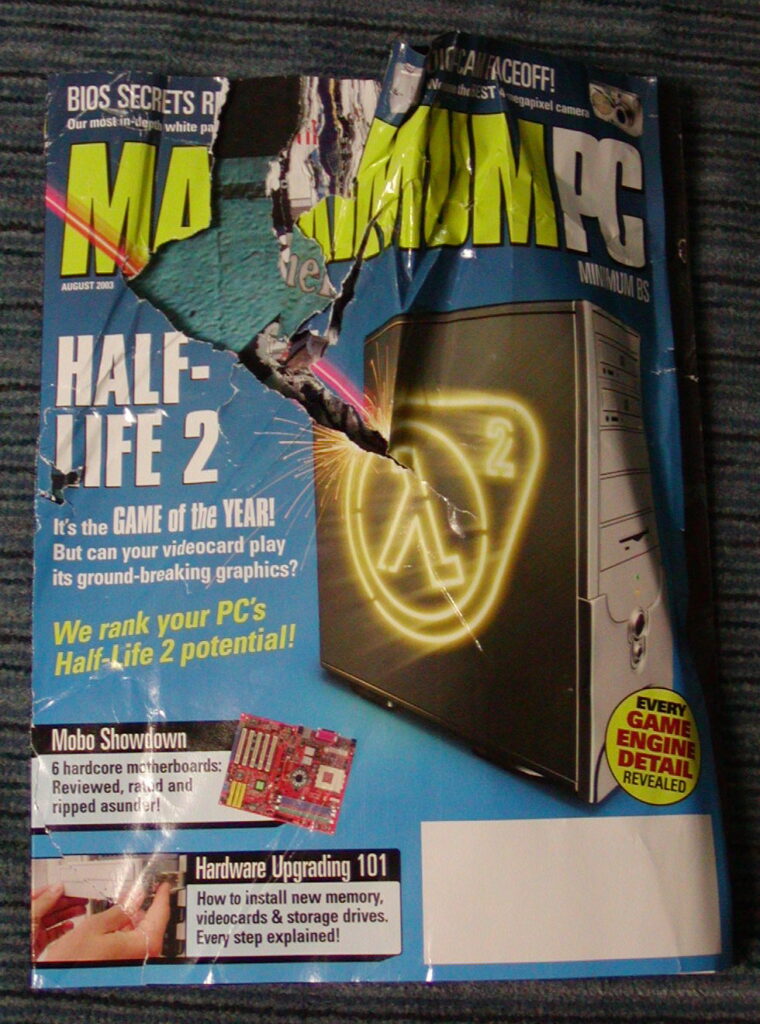 I took this opportunity to let the editors know that instead of the normal issue, I ended up with a copy of "Minimum PC, Maximum BS." This was the sort of magazine where a reader could throw, well, crap at the editorial staff in a respectful way, and that was part of the appeal to me as a reader.
As mentioned earlier, Maximum PC isn't going away; the owners have committed to retaining digital publication. It's a strategy followed in the past decade by other major publishing houses like Meredith and Condé Nast, sometimes with success, other times not. For Maximum PC, the biggest challenge to its ongoing survival is the commoditization of consumer technology hardware. Just look at the ads that ran in that October 1998 issue: sound cards; video cards; power protection; network cards; printers. Consolidation has reduced the number of players in the video card space. The market for discrete sound cards was destroyed by motherboard manufacturers. What's left is a very short list of premium brands still willing to spend ad dollars on anything other than Amazon search placement. (Companies like SXTAIGOOD and ELEGOO and NETELY probably aren't going to be running ads in a magazine like Maximum PC.)
The other challenge, of course, is the medium itself. Today, the alternatives to a digital magazine are endless: websites with content updating daily, if not hourly; podcasts, designed for consumption on-the-go and loved by multitaskers worldwide; and video, whether it's YouTube, TikTok, or Instagram. And there are certainly advantages to these formats over what is, at its core, a stack of image files on a screen.
But there is something to be said about a print-formatted magazine. It forces you to slow down and commit to the content on the page. Each issue is laid out in a specific, methodical manner, with the editors guiding you through that month's world of tech goodness like a [good] video game on rails. They're telling a story with the order of the content, encouraging you to work your way from the front cover to the back, but allowing you the freedom to skip ahead — or skip a section entirely. Stories and columns are published because they're worth reading, not because they help a site's search ranking. They've been curated, with time and thought put into the editorial process, because they can't be updated afterwards like a web page. And the ads contribute their own time capsule of history, permanently woven into the pages, telling their own story of the magazine's target audience.
And so, I raise a glass to the tech magazine I enjoyed following, as it celebrates its last print edition and moves into the digital-only space. Those piles of paper helped guide the technology industry into what it is today, and the impact of those printed pages will stay with all of us who were lucky enough to hold them in our hands for that brief period of time. With minimum BS, I say: cheers to Maximum PC.